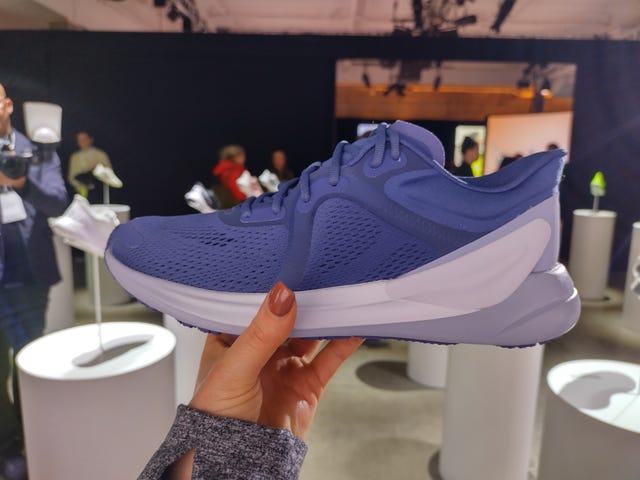 It's called Blissfeel
It's designed for women
It's been made using Lululemon's 'Science of feel'
Lululemon has unveiled its first-ever running shoe – a performance trainer designed specifically for women. Christened 'Blissfeel', the new shoe will go on sale on 5 April 2022.
Engineering high-end apparel since 1998, Lululemon has been planning its entrance into the footwear category for some time, having noticed a gap in the market for female-specific running shoes.
The design team used new data from over a million foot scans and the expertise of leading biomechanics and morphology specialists to create a shoe which specifically accommodates a woman's foot shape and gait cycle.
'Most performance shoes are designed primarily for men, and often for elite male athletes, and then adapted for women,' says Lululemon product creator Mark Oleson, who has been instrumental in the creation of the shoe. 'Yet, on average, women have distinctly different shaped feet. Women also move differently and have unique biomechanics – from where their heel strikes when they run to their centre of gravity.'
A focus on running feel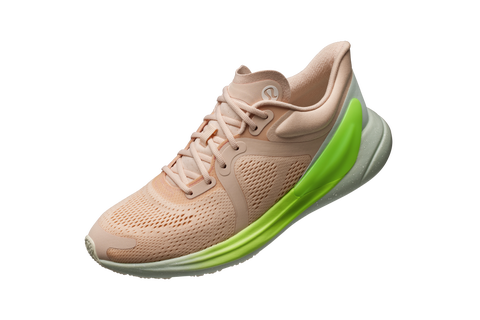 Blissfeel has been designed to make the kilometres feel effortless and enjoyable.
The focus of the new shoe is on a tailor-made fit and feel, with how the shoe 'feels' being of central importance. 'Prioritising feel is a real paradigm shift for the footwear industry, which traditionally tends to focus on performance, with feel as an afterthought,' says Oleson. 'But our goal was always to create the best feeling shoes for our guest – and given the foot has some of the highest numbers of sensory receptors in the human body, this was an exciting frontier to apply our unique "Science of Feel" design lens.'
As its name suggests, Blissfeel has been designed to make the kilometres feel effortless and enjoyable, with the chosen materials and construction methods all focused upon the sensations of the shoe. 'Even the colours were intentionally chosen to evoke a feeling,' says Oleson, 'for example, the vibrant Green Ray hue for Blissfeel was inspired by the sun at dawn and dusk – a time of day runners know well.'
So, how exactly can we expect the shoe to feel? As a neutral shoe, Lululemon say Blissfeel has been designed to move with you, but that doesn't mean it lacks structure. The upper has been engineered to feel like a 'supportive extension of your foot', with a heel counter to help lock the heel in place without altering a runner's natural gait. There's also a thick layer of Lululemon's exclusive compound foam to provide a nice balance of cushioning and responsiveness. It weighs in at roughly 251g and has an offset of 9.5mm.
So who's the new Lululemon running shoe for?
When we asked the shoe's designers what kind of running – and runner – the shoe is targeted at, they said: 'Blissfeel is designed for our guests who are running every day. We designed Blissfeel to be our guests go-to performance run shoe – the one that gets you out the door and carries you through your run with ease.'
What is interesting, however, is that its 'guests" level of running experience (how Lululemon refers to its consumers) seems to have little relevance when it comes to the shoes suitability to a type of runner. 'The focus is on the feeling and supporting our guests' journey in whatever stage that might be,' says Oleson. 'It's a more inclusive approach and one that we know our guest is looking for – whether that's crushing a personal best or crossing the finish line first.'
A men's collection is also set to launch next year with the same intentionality and focus on feel.
There's more to come
Blissfeel is just the first shoe from an entire footwear collection that Lululemon is set to release throughout the rest of 2022. It's based around the same 'Science of Feel' design approach and includes a versatile workout shoe (Chargefeel), a training shoe (Strongfeel) and a recovery slider (Restfeel).
So, what do we think of the new Blissfeel shoe? Our deputy digital editor, Jenny Bozon, will be trialling the shoe over the next coming weeks. Check back here soon for her verdict.