It's no surprise that during a year that saw the majority of people confined to their homes, there was a surge in new runners joining the sport, itching to get outside—or simply move. Strava users uploaded twice the number of outdoor runs and 1.3 times the amount of indoor runs in 2020 compared to 2019, the social media platform reported, and MapMyRun saw a 65 percent increase in runs logged. The satisfaction that comes from simply putting one foot in front of the other is undeniable.
But starting a running routine can feel difficult, and a strong grasp of the fundamentals is one way to make it easier and keep you running stronger for longer. That's why we teamed up with Saucony—makers of the fast, comfortable, and versatile Endorphin collection, including the all-new, ultimate combo shoe, the Endorphin Shift 2—and Runner's World Coach Jess Movold to answer new runners' most frequently asked questions—from how to stay motivated to when to replace your sneakers. Read on, and hit the ground running.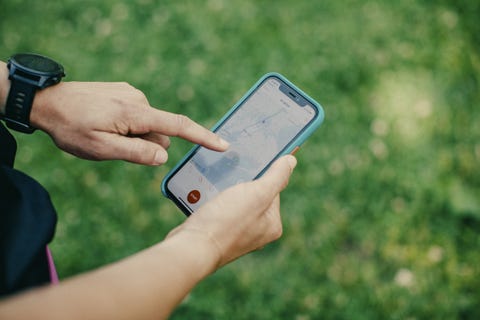 How am I supposed to find time to train?
The past decade or so, with a focus on boutique fitness, has made 45- or 60-minute workouts the norm. For new runners, the idea of running for that long can seem crazy. But you don't go from zero to 9 kilometres overnight. "You start by carving out even five minutes, committing to that time, and making it a habit," says Movold. "Start small and build from there."
"START SMALL AND BUILD FROM THERE."
If a five-minute workout seems silly, consider this: exercise recommendations in 2018, declared that workouts under 10 minutes counted toward recommended weekly activity goals. As long as your weekly exercise time adds up to 150 minutes of moderate aerobic activity or 75 minutes of vigorous aerobic activity a week (or some combination of the two), you're in good shape. What matters most is consistency, and learning how to repeat this new habit, says Movold.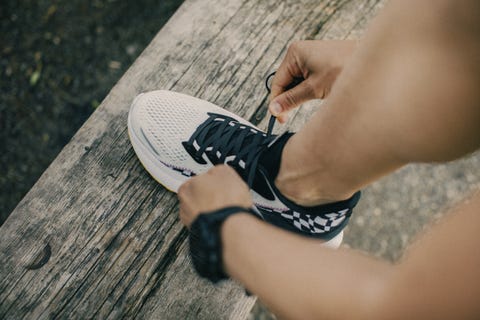 How do I know the best shoes for me to run in?
Running doesn't require a lot of gear, but what it does require—a good pair of sneakers—is crucial. If you have no idea what kind of running shoes might work for you, head to a specialty running store where you can have your gait analyzed; experts can then recommend some options for you. Online resources like Saucony's shoe advisor can also help point you in the right direction.
"WHEN YOU'RE RUNNING AT A COMFORTABLE PACE, YOUR FEET SHOULDN'T EVEN CROSS YOUR MIND."
Make sure to buy based on comfort, not what your friends are wearing or a new feature hyped by a brand. "A shoe should be properly fitted to your foot: not too tight on top, not too snug around your toes," says Movold. "When you're running at a comfortable pace, your shoes and feet shouldn't even cross your mind." A structured trainer like the Saucony Endorphin Shift 2 protects your feet with lots of plush cushioning and uses stabilizing features to propel you forward.
A general rule is to replace your shoes every 804 kilometres. If you're not someone who tracks their miles, just pay attention to how your feet feel in the shoes. "If the feedback is less responsive, there's noticeable distress to the shoe (like worn down treads or wrinkles in the foam), or it's no longer acting the way it did when you first wore it, then it's time to change it out," says Movold.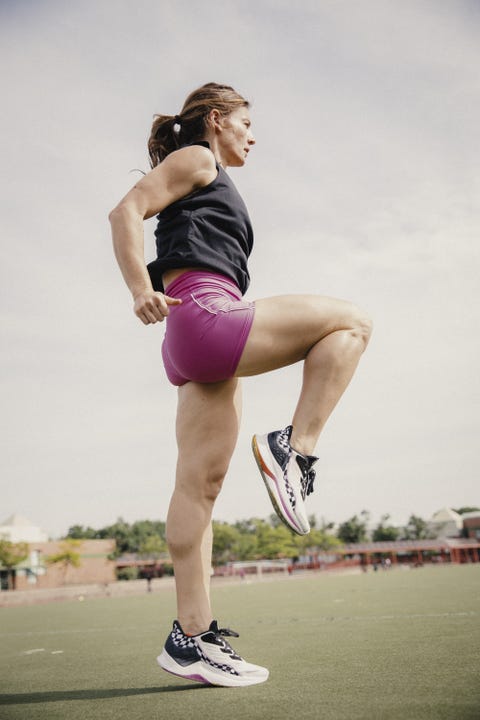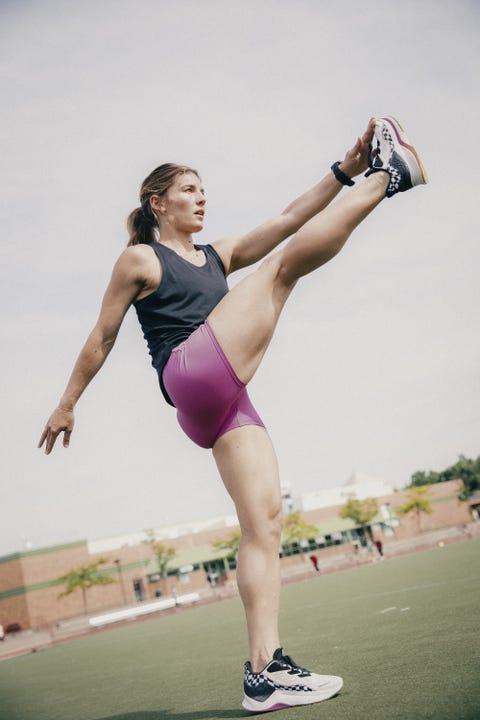 But running hurts!
That's not a question, but we get what you're trying to ask. A whopping 46 percent of runners reported some kind of injury over the course of a year, according to a new study by the University of Gothenburg. To help avoid joining their ranks, "embrace a 360-degree approach to running," says Movold. "Warm up, work to strengthen any imbalances, don't do too much too soon, and remember to recover as hard as you train."
"EMBRACE A 360-DEGREE APPROACH TO RUNNING."
A dynamic warm-up—things like lunges, leg swings, and butt kicks—loosens up your muscles, tendons, and joints, and it will help you sustain harder efforts for longer, a recent study published in the Journal of Strength and Conditioning Research found. Strength training will help improve your running efficiency. Once you get moving, Movold says to increase how often or how far you're running gradually to avoid overtraining and injury. And don't feel guilty about taking a rest day! "You're not benefitting yourself if you force a run when you don't feel up to it," she says.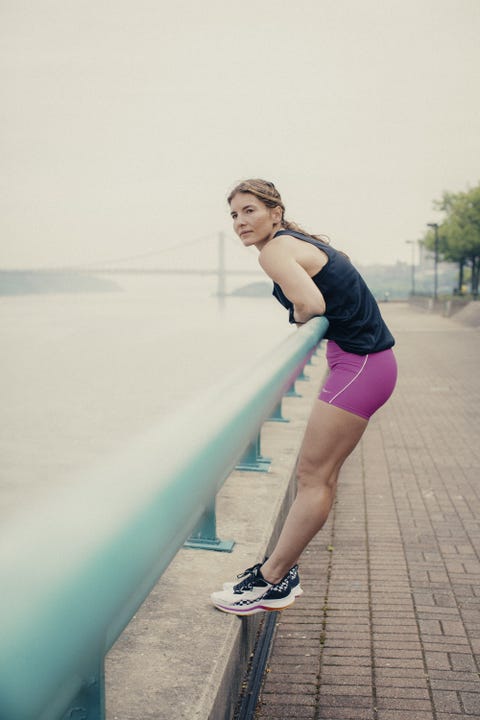 How do I stay motivated to get out the door?
Running can be hard—especially hard when the weather sucks or you're tired or just not feeling like yourself. The key to getting out the door: "You have to connect to a strong 'why' that lives within," says Movold. Maybe that's the sanity you experience from escaping work for a bit or the joy you get from playing a new favorite song on repeat. Grab on to that "why" to get yourself out the door. Then, when the going gets tough and motivation starts to wane, remind yourself how good you'll feel once you're done. "I really try to cultivate that feeling of accomplishment I'm seeking," says Movold.
"CONNECT TO A STRONG 'WHY' THAT LIVES WITHIN."
Another way to stay dialed in during the run is by practicing positive self-talk. "The minute you start going down that negative rabbit hole, it's all-consuming," says Movold. "The hard becomes harder, and the tough becomes impossible." Hyping yourself up, on the other hand, was shown to boost athletic endurance in a scientific review published in the journal Sports Medicine. And be kind to yourself, says Movold. If you're struggling and need a minute, think about how you'd console a friend and be that forgiving to yourself.
Speaking of friends, an accountability buddy is always a great motivator. There's nothing quite like making plans to go for a Saturday morning run with a friend—and knowing that friend will absolutely call you and wake you up if you're late to the meeting spot—to make sure you get those miles in. There are also loads of local running groups and clubs you can just show up for; the collective energy of a group working together towards their own unique goals is always a fantastic motivator. If that doesn't sound like it's for you, there are also virtual groups like the Saucony Run Club on Strava to help you dip your toe into the running community pool.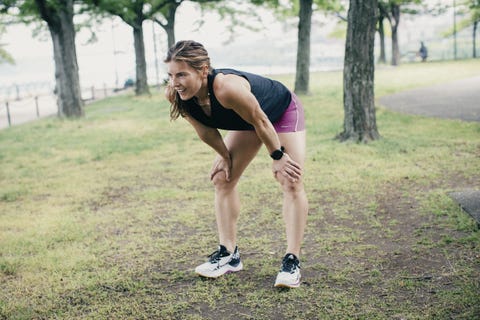 What if I have to walk?
"I'm always surprised by how often I hear people say things like 'I'm not a runner, but I've run two half-marathons," says Movold. "Stop using the word 'but.' There's no one definition of a 'real runner.' Whether you run, jog, sprint, or shuffle, eliminate the negative self-talk." Guess what? If you walk during a run, you're still a runner.
"THERE'S NO ONE DEFINITION OF A 'REAL' RUNNER."
Walking can actually be a powerful tool in any runner's arsenal. "It exercises the same skills as running and connects you to the habit," says Movold. Not feeling up to a run, but don't want to flake on your routine? Walking strengthens your bones and drives home similar movement patterns, but it won't put as much stress on your body as running. In fact, 15 minutes of walking was shown to be as beneficial as five minutes of running in a study published in the Journal of the American College of Cardiology. For new runners, alternating between walking and running can be a great way to build upon a new habit and make big strides toward your goals.