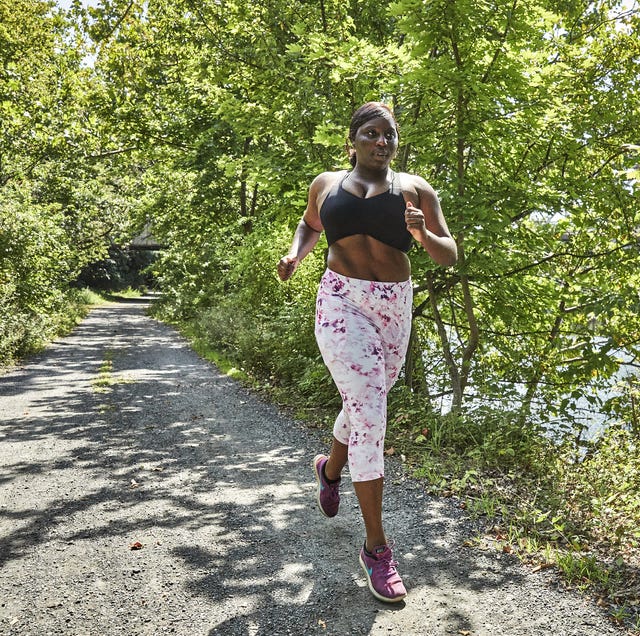 When it comes to choosing the right sports bra, having enough support is the first priority, at least for us. But how you get that support can really be a personal preference. Some runners love cups with underwire support, while others prefer wire-free. Or maybe you like a little more compression for a super secure feel, while your running buddy wants looser, adjustable bands and straps. The key is finding the right style that supports your cup size. Here's a cheat sheet on the most popular support features out there so you know what to look for in your next high-impact bra, followed by full reviews of the best-performing models from our wear-testing.
Some of Our Top High-Impact Support Bras
Underwire Cups
Just like your everyday, nonathletic bra, some sports bras feature wired cups for support. You'll typically find them in very high-impact bras designed for sizes DD cup and larger for superior bounce-banishing. The only drawback is that some runners find that they don't move with your body as well as wireless versions.
Moulded Cups
Runners seeking an underwire alternative should turn to a sports bra with a moulded-cup design. While they typically don't always match up to wires for support, they do offer more flexibility and often come with removable modesty pads. Moulded cups are also great for helping prevent the dreaded "uni-boob" appearance by providing an individualised structure for each breast.
Compression
The easiest thing a bra can do for support is offer you a little squeeze. Some runners opt for tight, locked-in, and bounce-free, while others balk at feeling too compressed. Generally, more compression will mean more support—so the bra will rely less on the other features like underwire or molded cups—but you'll have to decide for yourself at what point "jiggle-free" starts to feel more like "constricting." Encapsulation—a defined cup structure—is another feature in bra tech that keeps bouncing in check. Many designs will feature hook-and-eye back clasps, similar to your everyday bra, that let you set the bottom bust band to the right tightness. Same goes for your adjustable straps.
How We Test
We get it—all the extra doodads on high-impact bras look overwhelming, complicated, or just downright uncomfortable. But they're not if you adjust them properly. Easier said than done, of course. To guide you in your search for the best support, we did the legwork—literally. All of these bras have been tested by RW staff and a small group of local runners. We call in several bras each month and update our list to provide you with the best recommendations for runners of all shapes, sizes, and skill levels.
SUPPORT ON A BUDGET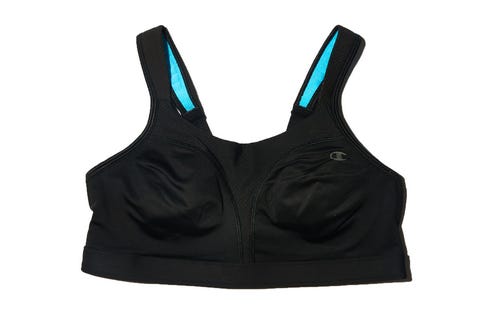 Champion The Spot Comfort Sports Bra
Supports C to DDD cups
Gel-cushioned straps ensure you won't get raw markings from long-wear and intense activities. The Spot Comfort also extremely breathable and moisture-wicking; mesh on the adjustable straps and front panel promotes ventilation. The high-impact sports bra is lined with moulded cups for non-underwire support. The back hook-and-eye closure makes it easy to take off. One thing to consider: size up. One tester found the fit a little too snug, even on the last hook-and-eye setting.
MOST COMFORTABLE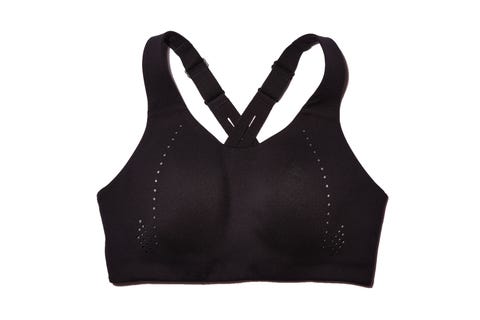 Lululemon AirSupport
Supports C to DDD
The AirSupport's cups are injected with foam and have an internal honeycomb pattern to enhance shape, control movement, and allow flexibility. The bra has a flattering woven cross-back design and reflective details to enhance visibility in low-lighting—it's like Lululemon knew we'd want to run in the AirSupport shirtless.
FOR THE STASHER DASHER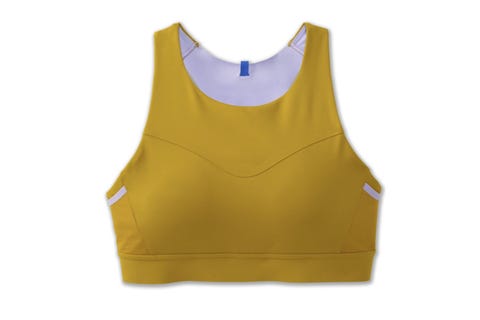 Brooks Drive 3 Pocket Run Bra – BROOKS
Supports A/B to DD/E
This three-pocket bra has a place for your phone (mid-back), and fuel and keys (either side). It's an ideal pick for long-distance training when you need to stock up on gels or cash—just in case you pass a coffee shop and need an, ahem, quick espresso boost. To reduce chafing, the Drive 3 uses low-friction bonded seams around each of its pockets. One small critique is that it's a little bit of a struggle to put on and take off. It also has removable padded cups, which could fold over and crease. For a molded-cup option that's free of removable padding, we recommend Brooks's Dare Crisscross bra. It has a unique strappy design and zonal perforations to help evaporate sweat.
ADJUSTABLE COMPRESSION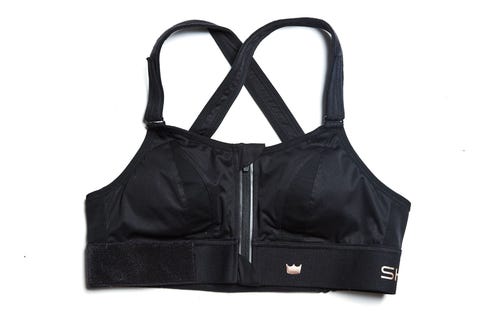 Shefit The Ultimate Sport
Supports A to I cups
The Ultimate provides an all-over personalized fit thanks to eight inches of Velcro on the straps—which are easily adjustable from the front—and underband. The bra goes on and comes off easily via the front zipper. Our 18DD-sized tester, who runs and plays tennis, liked the customisation aspect of this high-impact sports bra and how it supports her breasts at races and on the court.
NON-CHAFING UNDERWIRE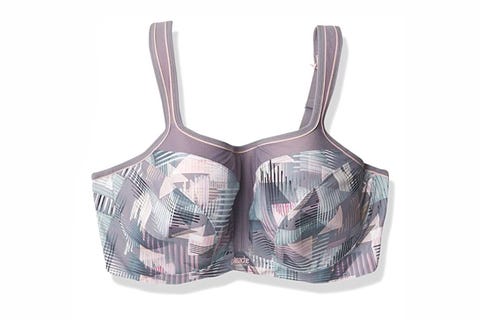 Ultimate High Impact Sports Bra
Supports A to KK cups
Some testers were unsure how much they would like this sports bra, thinking that an underwire design would chafe or rub. But Panache nails the support, with none of the discomfort. Made with moulded and seamless cups, the high-impact sports bra is contoured to move with you as you run but still locks down unwanted bouncing. Plus, the left strap even has a hook that allows for switching between an H-back and racerback style.
MOULDED CUPS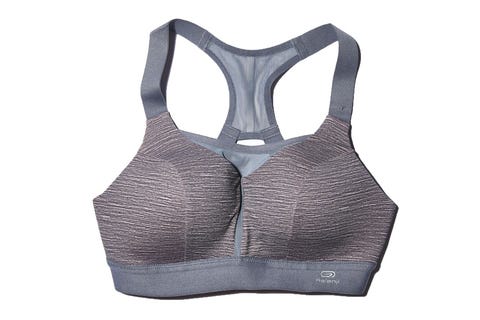 Decathlon Kalenji Comfort Running Bra
Supports A to F cups
We tested both Kalenji's Comfort Running Bra and Essential Running Bra and found the former to provide adequate support at a good price. For more intense activities, the Comfort offers support with molded cups instead of underwires, encapsulating each breast. One 10A tester appreciated how the design gave her boobs "a nice shape" but said the padding collects sweat over time on a run. The sides slightly dug into our 14D tester's skin, however, she said it "kept everything in place in reasonable comfort with a minimum amount of bounce."
FULLY CUSTOMISABLE FIT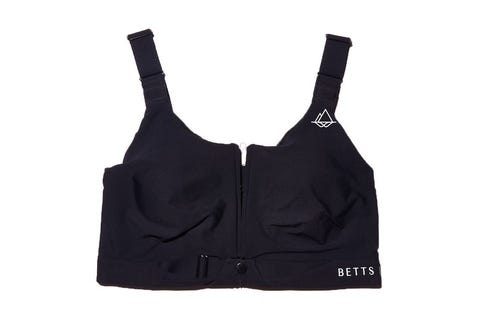 Betts Fit Bounce Free Sports Bra
Supports C to G
The Bounce Free is chock-full of features that require viewing an instructional video online. But the experience is worth the shorter than six-minute watch. The bra has easy-to-close butterfly snaps on the back bands and straps (which you can adjust from the front while wearing), a corseted bust that's tightened by a pull cord, an adjustable bottom band, and a hidden front zipper pocket for keys. This customisable fitting (the straps can be worn either H-back or cross-back) maximises support without sacrificing comfort. We experienced no breath-restricting compression and didn't feel limited in our options to adjust the band and strap sizing. A minor quibble is the long corset cord that hangs loose unless you tuck it into the bottom band's sleeve.
TRI-FLO VENTILATION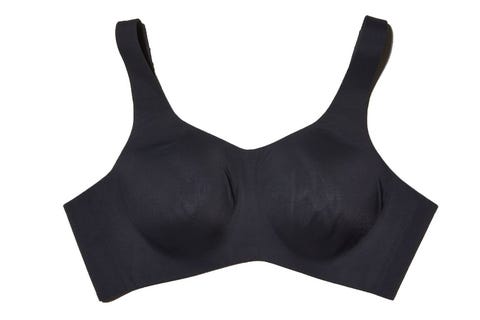 Knix Catalyst Sports
Supports A to G cups
Knix's Catalyst provides all-inclusive coverage, boasting an incredible support range from size 10A to 20G. The bra has molded cups to cradle each breast (preventing bouncing), perforated vents in between the breasts (the area that usually becomes swampy with sweat), and easily adjustable ladder straps.
Like Shefit's The Ultimate, the Catalyst has been a mainstay on our list of best high impact sports bras—we even retested the bra to see if it should still be included. Literally and figuratively, the bra still holds up.
OVERBAND TECHNOLOGY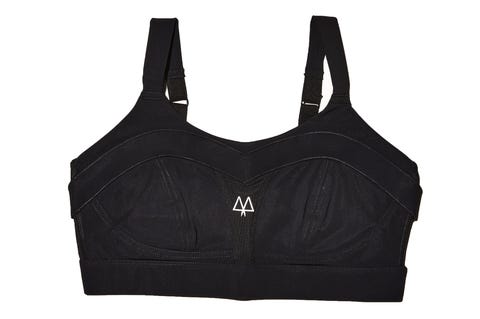 Maaree Solidarity High-Impact Sports Bra
Supports C to G cups
Breasts move in a figure-eight pattern while running, so it makes sense to design a bra that reduces downward and upward motion. Mari Thomas, who is a size 12E and runner herself, founded Maaree to produce sports bras, like the Solidarity, with Overband Technology (a curved panel above the breasts).
One cool perk about the Overband high-impact sports bra is that it can be tightened—just like shoulder straps—from the side of each boob. And it's strategically placed so the plastic sliders won't cause any underarm friction.
SOFT & SUPPORT
Original Running Bra v5 – RUNDERWEAR
The new original running bra v5 offers the ultimate experience in running comfort with its enhanced design and new features. It offers more control and and support than ever before. The bra has been extensively tested to deliver the best possible results in comfort and support.