Without a doubt, Brooks has played an influential role in running shoe evolution—but the brand's primary focus wasn't always running.
From 1914 to 1974, Brooks produced ballet shoes, roller skates, and baseball cleats before developing its first running shoe: the Villanova. In 2001, the brand became a full-fledged running shoe company, crafting trainers—like the ones below—that energize and cushion runners with every stride.
Without a doubt, Brooks has played an influential role in running shoe evolution—but the brand's primary focus wasn't always running.
From 1914 to 1974, Brooks produced ballet shoes, roller skates, and baseball cleats before developing its first running shoe: the Villanova. In 2001, the brand became a full-fledged running shoe company, crafting trainers—like the ones below—that energize and cushion runners with every stride.
Refined Cushioning, Improved Support
In 1975, the Villanova introduced runners to the comfort and durability of an EVA midsole, setting the standard for what we look for in running shoes today.
"I wanted more rebound, better shock absorption, [and] lighter weight," said former Brooks president Jerry Turner to Runner's World in 2016.
Brooks continuously tweaked its midsole constructions, eventually creating its proprietary foam called BioMoGo DNA. This material conforms to the wearer's foot and adapts to their running pattern, while also providing long-lasting cushioning. Different variations of the DNA foam soon followed.
In 2017, Brooks introduced its DNA Amp midsole, a polyurethane foam (PU) encased in thermoplastic polyurethane (TPU). The Levitate was the first shoe with DNA Amp, and it provided runners with a bouncier platform, touted to deliver the highest energy return compared to all Brooks's other midsoles—as well as those of its competitors. Trailing DNA Amp was DNA Loft, the brand's plushest midsole foam, which disperses impact without sacrificing rebound.
A more recent innovation is DNA Flash, a nitrogen-infused midsole that provides propulsive turnover as well as moderate cushioning to buffer shock when racing long distances. The new Aurora-BL's DNA Loft v3 midsole is also nitrogen-infused, and provides Brooks's most cushioned experience yet on a surprisingly lightweight platform.
From Go-to-Shoe to Go-to-Support
Brooks originated the stability shoe with the release of the Vantage in 1977. The Varus Wedge, a firm piece of foam on the interior side of the heel, helped control inward rotation of the foot (i.e., overpronation). Several modifications on stability tech followed, including the Diagonal Rollbar.
Brooks's most recent stability tech, the Guide Rails system, is the brand's holistic approach in preventing erratic movement caused by running fatigue, which can lead to injury. Instead of trying to "control" pronation, a higher-density foam on the medial and lateral sides of the midsole creates a bumper effect to align knee and ankle movement.
Besides making the switch to Guide Rails, Brooks is also introducing a new naming convention for its stability shoes. Formerly "Go-to-Shoe," the GTS acronym is now redefined as "Go-to-Support"; GTS will now be tagged onto all stability shoes following the name of their neutral counterparts. For example, the newest Transcend model is renamed Glycerin GTS, and the Ravenna is now the Launch GTS. The only shoe you won't see? Ghost GTS. A Brooks rep promises that the Adrenaline—the original Go-to-Shoe—will keep its moniker, because you can't rename a legend.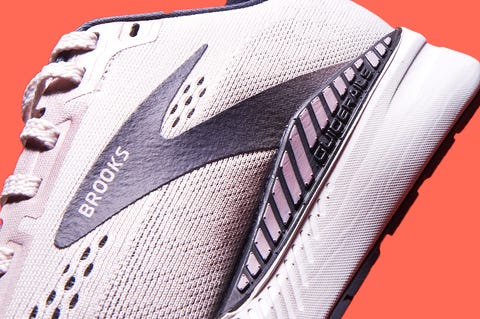 Guide Rails
Guide rails offer unobtrusive support for both overpronators and neutral runners.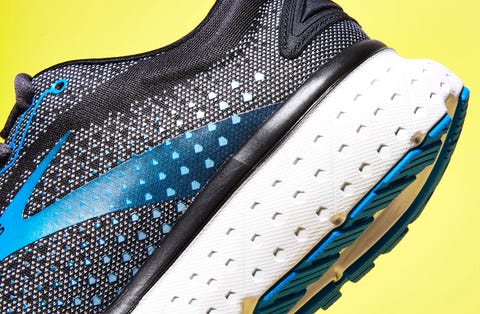 DNA Loft Foam
Our lab tests show that DNA Loft remains Brooks's softest midsole material.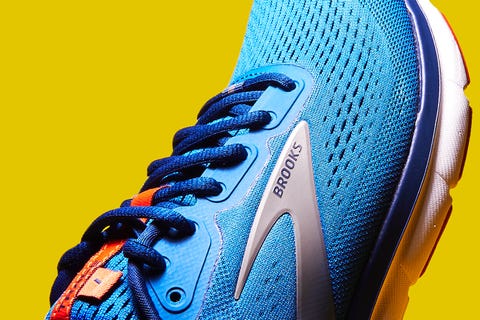 3D Fit Print Upper
Screen-printed mesh provides lightweight structure with more air flow and flexibility.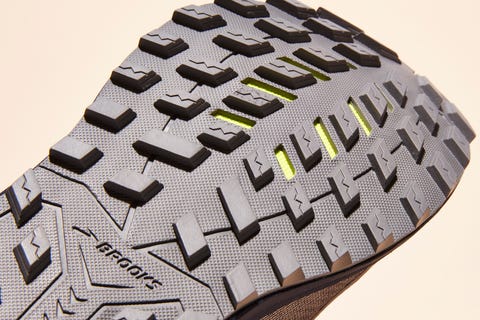 TrailTack Rubber
This sticky outsole compound aids grip and wet-surface traction on trail shoes.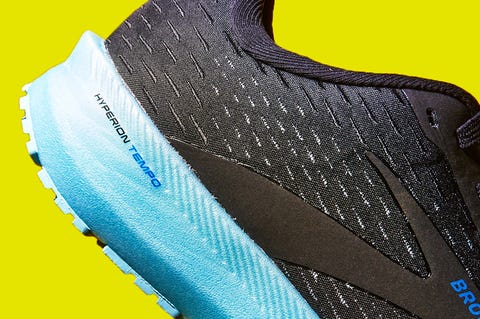 DNA Flash Foam
The most responsive expression of Brooks's DNA foam debuted on the Hyperion Tempo.
Pledging Sustainability
In summer 2021, Brooks announced its goal of becoming a net-zero carbon emissions company by 2040. To begin this major undertaking, the brand launched the Ghost 14 as its first carbon neutral trainer.
"[It's estimated] that 150 million people run outside worldwide," said David Kemp, the senior manager of corporate responsibility at Brooks. "So it's really incumbent on us to recognize that and take responsibility for the impact that we have on the planet."
Replacing virgin polyester with recycled polyester in a mass-produced shoe is both a small and major step for the company. Brooks will eventually switch all products to carbon neutral, as well as adapt to better low-energy practices at its facilities. Shipping and waste are also among the many other facets of production the brand plans to tackle during its climate-conscious mission over the next two decades.
How We Tested
Our 250-plus local wear-testers of various running levels, ages, and gait patterns have put in over a hundred kilometres testing each shoe on this list. We also run in these shoes ourselves and analyse data from our RW Shoe Lab, combing through data on past models, measuring energy return, cushioning, and flexibility. Below are the 12 best shoes according to our research.
---
—MOST CUSHIONED—
Aurora-BL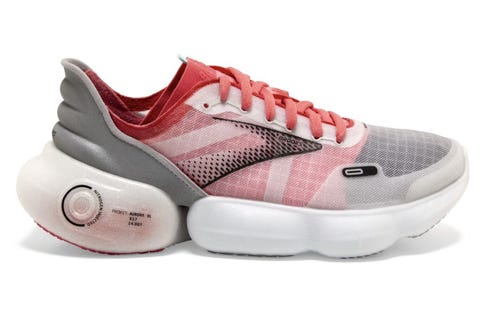 Aurora-BL
Pros
New lightweight and luxDNA Loft v3 foam
Reflective molded heel
Decoupled heel and forefoot
Cons
Limited edition
High price
The futuristic-looking Aurora, developed by Brooks's Blue Line team (hence the "BL"), is the most cushioned shoe the brand has to offer. The midsole is new nitrogen-infused DNA Loft v3 foam, which is remarkably lightweight and provides a luxurious, walk-on-the-moon ride with a responsive edge. The mono mesh upper has a reflective molded heel counter. The shoe also has the highest stack height of any of the brand's other current models (the heel is 37mm; forefoot, 31mm) and its slightly curved sole, called Glide Roll, encourages quick, smooth turnover. Even though the Aurora doesn't have a carbon-fiber plate in its midsole—yet comes at a so-called "super shoe" price—you get more bang for your buck with workhorse hardiness that you can lace up in everyday with a springy feel many daily trainers lack.
---
—BEST FOR COMPETITION—
Hyperion Elite 2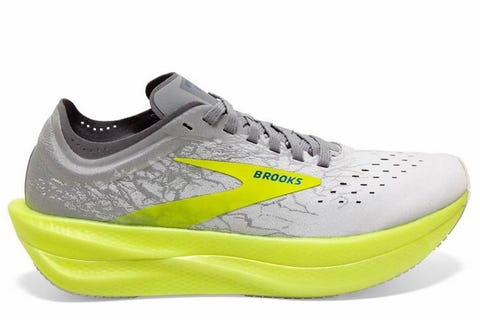 Hyperion Elite 2
Pros
DNA Flash foam delivers a softer ride over long distances
Increased durability to withstand higher mileage than the first Hyperion Elite
Cons
Uses unisex sizing
More expensive
When the Hyperion Elite was released in February 2020, the Elite 2 was already in development and set to launch that September. Runners—like me—liked the speedy energy return of the OG's DNA Zero midsole, but others—like Runner-in-Chief Jeff Dengate—craved more cushioning. For a softer and more supportive platform, Brooks replaced DNA Zero with the cushier and bouncier DNA Flash (the same midsole as the Elite's training companion, the Hyperion Tempo). A minor caveat with the Elite 2 is its unisex sizing, which makes the heel collar not as snug for women runners.
---
—BEST FOR SPEEDWORK—
Hyperion Tempo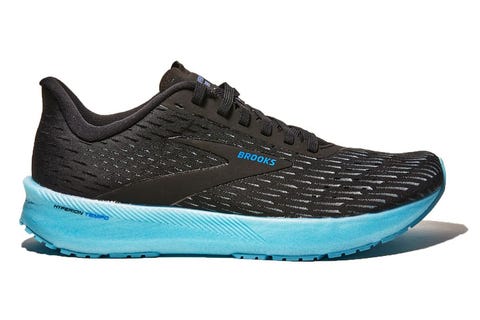 Pros
DNA Flash cushioning tuned for high energy return
Comes in men's and women's sizes
Cons
What puts the Tempo on a pedestal beside its faster sibling, the Elite 2, is its versatility as an everyday trainer, base builder, and racer. The Tempo has springy, cushy DNA Flash foam, and is available in both men's and women's sizing for a streamlined fit. It's also $100 cheaper than the Elite 2.
—FASTEST TRAIL SHOE—
Catamount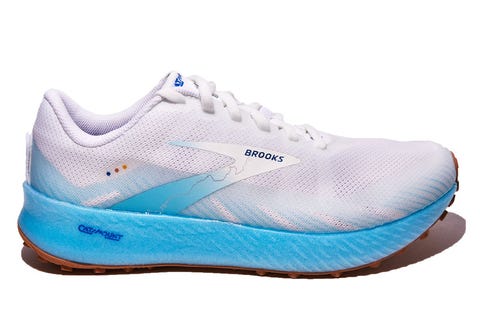 Catamount
Pros
Energetic midsole and 3.5mm lugs are versatile for road-to-trail runs
Cons
Lugs are not suited for very deep mud
Why limit DNA Flash to road racing shoes? The soft and supportive nitrogen-infused foam that serves as the midsole in Brooks's Hyperion collection is configured into the Catamount for zooming down rugged terrain. Unlike other lightweight trail shoes, the Catamount doesn't sacrifice key trail features in order to slim down. It comes with a rock plate, a reinforced upper, and a sticky rubber outsole with large lugs—all essential for taking on challenging terrain.
—BEST DAILY TRAINER—
Ghost 14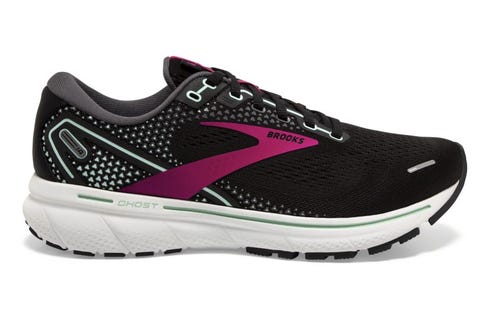 Ghost 14
Pros
First carbon neutral Brooks running shoe, mostly made of recycled materials
Full-length soft and responsive DNA Loft midsole
The Ghost is a highly decorated shoe—we've given it several Editors' Choice awards over the years—and it's a workhorse that can handle daily training runs and high mileage. This new iteration is also setting a new standard for all Brooks trainers as the brand's first carbon neutral shoe. Released when the company announced its ambitious goal to achieve net-zero carbon emissions by 2040, the Ghost 14 leaves a smaller carbon footprint with an upper made mostly out of recycled polyester. Rest assured that this model feels like the same ol' Ghost: bootie-like, cozy interior; responsive cushioned midsole; and versatility to handle almost any workout.
---
—BEST BARGAIN BUY—
Revel 5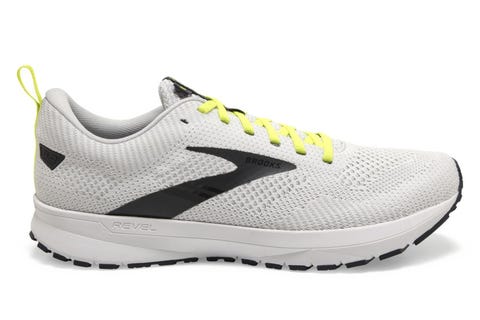 Revel 5
Pros
BioMoGo DNA molds to and cushions your foot, providing high energy return
Breathable Fit Knit upper
Arrow-point tread pattern on rubber outsole
Cons
Less supportive
Fits snug for wide-footed runners
Many aspects of the Revel and Launch are similar. Both are lightweight and share Brooks's responsive BioMoGo DNA midsole, which delivers high rebound on a neutral yet supportive EVA foam platform. The Revel remains the better pick for runners who want a more streamlined, slightly narrower fit, with its breathable knit upper that hugs your foot.
---
—BEST FOR LONG RUNS—
Adrenaline GTS 21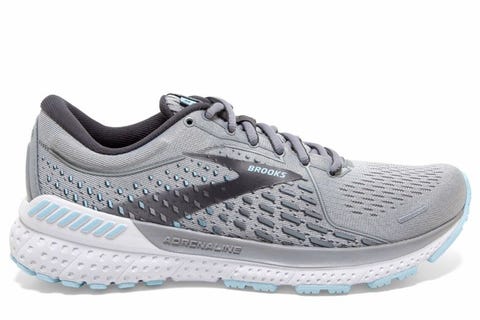 Adrenaline GTS 21
Pros
Smoother, softer ride than the Adrenaline GTS 20
Engineered Air mesh upper feels light and breathable with a snug midfoot fit
Cons
Tall heel-toe drop (12mm) felt unnatural to some testers
The fraternal twin of the Ghost is actually older than its neutral sibling. Since its release in 1994, the Adrenaline GTS has gained a massive following for its soft platform and stability features that cater to both overpronators and neutral runners. It's a flexible shoe that falls in the middle of Brooks's more cushioned trainers, sitting between the plush Glycerin GTS and nimble Launch GTS. The guide rails system provides bumper support for erratic knee movement caused by overpronation and late-onset overpronation due to running fatigue, i.e., that final stretch during your long run when your form suffers.
---
—EVERYDAY CUSHIONING—
Glycerin 19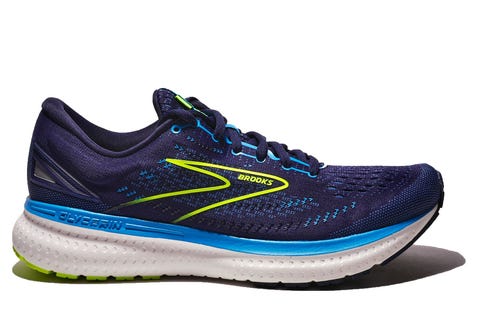 Glycerin 19
Pros
Smooth ride with abundant cushioning
Bootie-like interior that hugs the foot
Cons
Runs small so runners may want to consider going half a size up
The plushest model in the Brooks lineup, the latest Glycerin is a notable improvement on an already popular shoe. It's now lighter (over an ounce in the men's version) and significantly more flexible than the Glycerin 17, and yet Brooks managed to squeeze even more DNA Loft foam inside it. In addition, an Ortholite sockliner and internal bootie create a comfortable, snug fit around your foot. It's a well-cushioned shoe that doesn't weigh you down—proof that you can go fast and be comfortable, too.
---
—RESPONSIVE DAILY TRAINER—
Levitate 4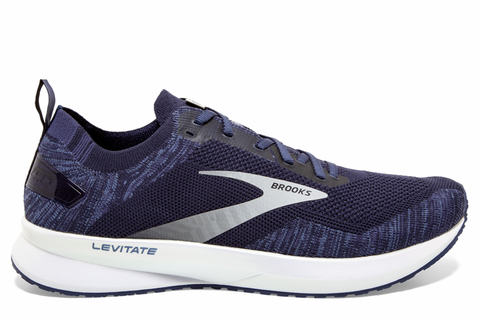 Levitate 4
Pros
Lighter than previous versions
High energy return and springy ride
Cons
Testers found the toe box narrow
Runs slightly small
Past Levitates delivered high energy return with the TPU and PU DNA Amp midsole, but problematic with those past models was their stiffness and weight. Brooks reformulated the DNA Amp foam, making it 20 percent lighter. The shoe still provides an energized, propulsive ride, and a new arrow-point pattern on the outsole promotes smooth heel-to-toe transitions.
---
—MOST CUSHIONED TRAIL—
Caldera 5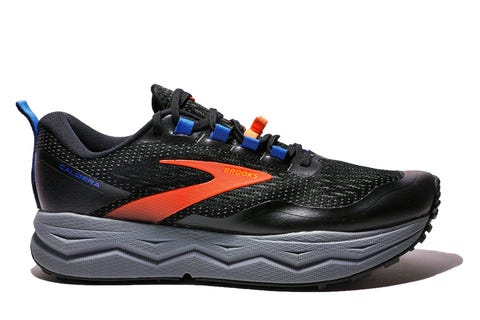 Caldera 5
Pros
Responsive, peppy ride with thick cushioning
New lacing system, with loops for a locked-in fit
Tacky outsole doesn't slip on wet or loose surfaces
Cons
Slightly heavier than past iterations
Since the Caldera 4, the series has become slightly beefier in the midsole, yet it still delivers fast energy return with its responsive BioMoGo DNA foam. That thicker platform also serves well as a buffer on rugged terrain, making a rock plate unnecessary. The 5 has a new "ghillies" lacing system; loops replace traditional eyelets for a more secure fit. Lastly, the TrailTack rubber outsole doesn't slip on slick rock and bites into loose mud.
---
—CUSHIONED AND LIGHTWEIGHT—
Trace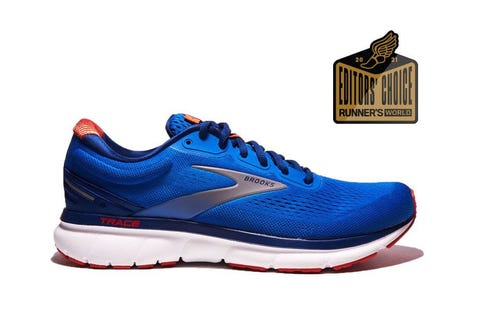 Trace
Pros
Lightweight—but plush—BioMoGo DNA cushioning
Breathable and durable engineered mesh upper
Cons
Material becomes slightly rough when wet, resulting in hot spots in the toe box
The Brooks team seemed to be confident the new kid would stick around, etching a "1" onto the Trace's tongue. This bet paid off; staff and wear-testers' all agree that the Trace is here to stay. The shoe has adequate cushioning, with enough flex at toe-off, and a segmented crash pad to reduce shock in the heel. The Trace is a solid pick for runners seeking a soft and speedy trainer, like Saucony's Kinvara.
---
—LIGHTEST STABILITY SHOE—
Launch GTS 8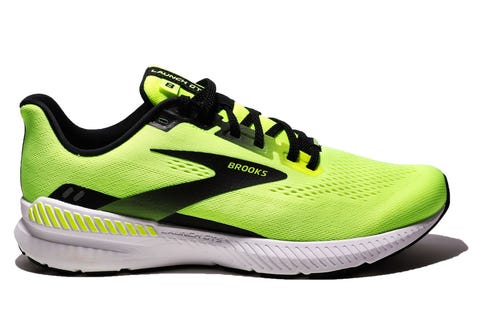 Pros
Elastic gusseted tongue in GTS version improves midfoot lockdown
Firm cushioning delivers a stable yet snappy ride
Cons
Sizing runs slightly long
The Launch 8 and Launch GTS 8 are a cheaper alternative to their speedier cousins, the Hyperion Elite 2 and Tempo. BioMoGo DNA provides moderate cushioning and a propulsive kick in a lightweight trainer with an updated, even more breathable mesh upper. Formerly the Ravenna, the GTS version has the guide rails system for support. Dense foam on the lateral and medial sides of the heel serve as bumpers to align the knee and ankle.