The very first entry I made in an official running diary was this note in the little yellow Notes app of an iPhone 4:
2013 Run Diary
Week of 13/5/13 – 19/5/13
MON: 17.7 kilometres, 5×60 accelerations, 10 minute core
I know this because I've backed up that little note, along with years of training diaries since then, in a Google Doc on my computer. To anybody who isn't a runner, it might sound weird, even excessive, to back up a training diary. But, as of late, I found that those precautions were necessary. Why? After almost eight years of using an online third-party website called Athleticore, I encountered this error message.

Athleticore users could not upload runs or even view their training logs. For some, that meant potentially losing data on more than 15 years of running.ATHLETICORE
Created by competitive triathlete Nick Frank back in 2004, Athleticore is now a fairly antiquated virtual platform for running clubs and individuals to keep track of their training, practices, and schedules. Over the years, most of its users have since moved on to more modern platforms. Luckily, after a good deal of hunting on the LetsRun message boards (you can check out the full thread here) those of us who remained on Athleticore were able to contact Nick. He responded that we'd all have a chance to retrieve our diaries before the site closes officially this April. Huge sigh of relief.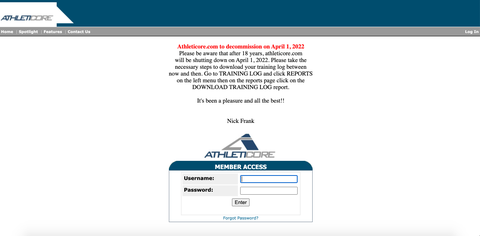 The login page has instructions for exporting and downloading your training diary—something I probably should have done ahead of time.
I was in training diary limbo for about two months, trying to figure out where to record my runs next and testing out several different apps and websites to see which one I liked best. Despite the inherent risk of putting any data on the internet, I prefer using an online diary, and I've since found one that feels right for me. (One big difference is that, unlike Athleticore, it has an optional mobile app that gives me another level of backup.) Still, I've had some time to wonder if we ever really should be trusting our data to third-party sites that could close their doors? Or, is the safest option still something physical?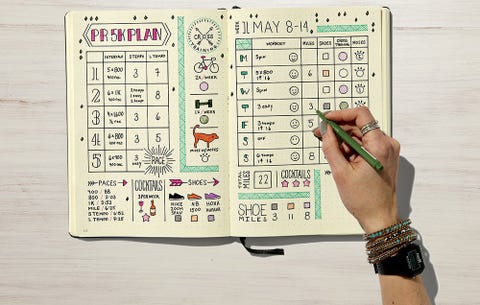 For some runners, a training journal is also a to-do list, food log—or even an art project.
Online vs. On-Paper
The irony of it all is that, in deciding how to track everything from the beginning, I actually chose an online option for fear that I'd somehow lose or damage a notebook. If you travel a lot and your training log will be spending a decent amount of time in places other than safely on a bookshelf, that's something to consider. And while current research shows that mindfully slowing down and putting an actual pen to paper can be very beneficial in the long term, I'd rather type quickly on a keyboard. The best training log will vary from runner to runner; it really comes down to your personal preferences and what aspects are most important to you.
The above options have dedicated fields to track your effort level, mileage, favorite routes, PRs, and more. Some even offer additional training tips and pace conversion tables, as well. Of course, a monthly date planner, marble composition book, or spiral-bound journal will do the job just as well if you want something simpler. You can even find ones that are rip-resistant and weatherproof.
Private or Social?
While digital sites like Strava are great as a social network to share what you're doing, I wasn't interested in giving or getting kudos or winning segments. Athleticore had a team-based format that felt more private. Sure, there was a leaderboard, but I could ignore that pretty easily—unlike a timeline of updates you'd see immediately upon logging in. Knowing my past tendency to get stuck in training comparison traps, I wanted my running log to remain a place where I kept my mileage to myself. Most days, it's just a quick note of time and distance. Other times it's been an intimate, even therapeutic space to ramble on about mid-run ideas and how I felt, or who I ran with and where we got coffee afterward.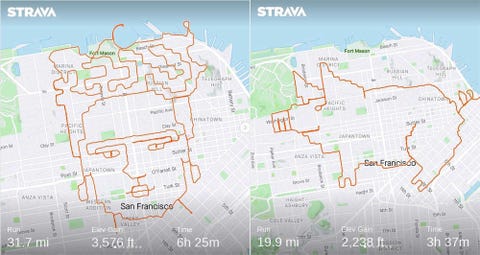 Maybe a run log is where you like to show off your Strava art.(@LENNYMAUGHAN)
Simple or Complex?
I value simplicity in a running diary—that's part of the reason why I stuck with Athleticore despite its sometimes glitchy interface. It worked well enough for me, and for the stubborn Athleticore devotees like myself who didn't even want an automatic upload function. The websites below are free and easy-to-use, but they also have space to add more details on how you felt and your workout specifics. Even the simplest options here will let you keep tabs on your PRs, race history, favorite routes, past injuries, and current niggles.
The above training diaries have specific fields for noting things like what you wore in different weather conditions and pre-run snacks that digested well (or those that didn't). You choose how much info you want to fill in for each run. My only major requirement was that the site had to have the capability to tally my shoes' mileage, and all these options do that automatically.
No Matter What, Keep a Back Up
At best, if a diary shuts down or changes its features to something you don't like, you can just transfer your data to another platform. At worst, you could lose years of running info. So, what's the best way to keep your diary safe? If you run with a GPS watch, all of your actual GPS files can be backed up by the manufacturer's site or app. (Garmin Connect, for example.) That gives you the numbers-side of things like distance, time, and maybe even elevation gain and heart rate.
If you do a lot of journaling with each entry, it's unrealistic to print and file everything. For backing up your writing and race reports, check the services offered by the digital training diary you're considering. Most sites have a "bulk download" or "export" feature—use it! The safest option is keeping a second version of your diary that only you (not a third-party website) can access. Whether that's an old-school Excel spreadsheet, an exported file saved to your computer, or a plain paper journal, just make sure that you are the one who controls it.